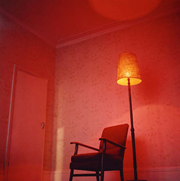 Why does the beautiful blue paint you chose so carefully make the bedroom feel like an icebox?
It's all down to the light, both natural and artificial, which alters colour radically.
You love the colour in the tin, but what will it look like on the wall? To prevent disappointment, follow these guidelines...
The most important thing is to look at your chosen paint at all times of day. Pin up a sample and keep looking at it day and night and under electric light. Fluorescent strip lighting, in particular, will change its appearance.
The light in this country is cold and northern, which makes colours look dull. That stunning Mediterranean blue wall you saw on your travels probably won't work if you try to recreate it here.
Work out which direction your room faces. If it's north-facing then it's likely not to get much sun and it will probably feel cold. Shades from the cool side of the colour wheel will make it look even colder, so warm it up with cosy tones.
A south-facing room will get lots of light. If you want it to look sunny choose warm shades, although these might be overpowering in the full glare of the sun. To keep the room light and airy, choose cool shades.
If your room is dark and dingy, painting it brilliant white won't help. White without light looks grey.
Overhead lighting makes colour look flat. Try using a dimmer and lots of ambient lighting.
Paint turns darker when it dries. To check what you'll end up with before you put your paint on the walls, test it on non-absorbent white paper first, allowing it to dry thoroughly.
A pale neutral may look washed out in strong daylight or artificial light - try a more intense shade.
The finish of the paint makes a difference to the result. Gloss will look much lighter than matt eggshell. You'll also get a much lighter look if you're painting a smooth wall than if you're painting over textured wallpaper or using textured paint.
Halogen bulbs give a truer representation of colour than ordinary tungsten ones.