Today's ceilings boast exciting color combinations and intriguing textures that are readily apparent on wall coverings and other painted interior surfaces. If you are preparing to take the ceiling color "plunge", but have not yet decided on a palette, consider the character of the existing space. Darker spaces, as well as rooms that have low ceilings often come alive with the addition of a light ceiling color in order to visually extend the ceiling's height.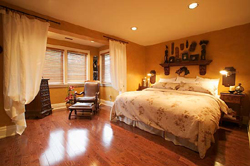 Remember, light does not always mean white! Many rooms benefit from the addition of a creamy neutral to the ceiling space. Contemporary neutral paint colors are available in the latest, fashionable shades. Consider implementing a monochromatic space using a ceiling color that is two or three tones lighter than the color of the existing painted walls. Large, open areas often cry out for colors that create a cozier, more intimate space. Consider applying the identical earthy shade to walls and ceilings within oversized rooms that lack intimacy. Add dimension and further interest by applying a decorative paint treatment that not only beautifies, but adds warmth to the area. (Venetian plaster and other ?old world? techniques represent ideal choices for warming up rooms, particularly when deep, rich shades are implemented.)
Indulge in your sense of adventure! When designing the color palette for the intended space, treat your ceiling the same as any of your other existing walls. By taking into consideration the size and layout of the room, as well as the way the room functions; a homeowner can best determine the most appropriate ceiling shade. One more tip: if you are unhappy with the hue you have selected for the ceiling, nothing is final. Remember that paint colors can be manipulated with additional color or techniques to reflect darker or lighter shade, until the result of your efforts is satisfying.