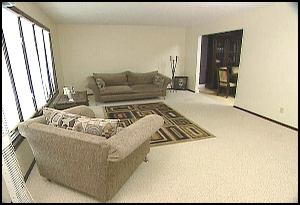 Host Joan Steffend and designer Barbara Sculati bring warm earth tones to a bland living room.
$40 - Paint
A warm tan tone on the walls brings out the beauty of the woodwork.
$175 - Window Treatment
Lush fabric with a vintage beaded centerpiece is used as an elegant window treatment.
$18 - Curtain
A sari is cut in half and used to soften the doorway into the dining room.
$21 - Cushion Covers
Neutral cushion covers hide the pillow print in order to accommodate more color in the room.
$65 - Coffee Table
Sculati splurges on a carved coffee table from a thrift store, which she tops with an upholstered cushion.
$5 - Cabinet
$30 - Window Seat
The original coffee table is recovered for a charming window seat.
$34 - Pillows
An old coat is recycled into pillow covers.
$15 - Carved Chest
$3 - End Table
$21 - Chair and Ottoman
A cozy reading area is created with a matching chair and ottoman.
$16 - Screen
A divider screen is enhanced with a decoupage treatment using brown and black construction paper. A marble pattern is created on plain brown paper by spraying on a mixture of tempera paint and water.
$7 - Handmade Painting
A plant stem is used as a stencil to create a contemporary safari-inspired painting. Sculati brushes the wall color onto the stem, dabs on dark brown paint then presses the paint onto the canvas to create a bamboo pattern. Tea is dripped onto the surface to tone down the stark white canvas.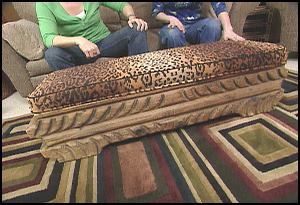 $5 - Lamp
$9 - Tablescape
$6 - Wall Grouping
A collection of carved wood accessories and a lantern (with the electrical parts removed) are grouped together on the wall for an interesting vignette.
$5 - Reading lamp
$15 - Plant
$496 - Project Total